The client
SITA, the leading global aviation IT provider, enables digital transformation for over 400 customers across 18,000 commercial aircraft, with more than 80 air navigation service providers. SITA ensures the highest standard of flight operations for 90% of the global airline business, providing services such as digital day of operations, aircraft data management, and unified aircraft communications.

The problem
As aircraft became digitalized, flying data centers, SITA decided to harness full potential of the Connected Aircraft as an answer to technological shift in aircraft industry. As a client they needed a complete, efficient solution to parse, analyze and monetize data from 50+ services provided to more than 400 customers in global aircraft industry.
The solution
Facilitating better decision-making and monetization of data for leading global airlines through comprehensive analytics of data in areas such as: Unified Aircraft Communications; Aircraft Data Management; Digital Day of Operations and Cabin connectivity services; Increasing efficiency and customer satisfaction.
Supported by implementation of a scalable, comprehensive Data Analytics Platform with AI-augmented capabilities to support immense amounts of data. Unified tech-stack, self-service first approach, and proper data governance allows for reduction of maintenance team to minimum.
The aim of the solution was providing ability to model and transform data into meaningful KPIs and metrics. This allowed not only for better and quicker decision making, but also easy way to monetize data through services provided by client to more than 400 airlines.
Challenge:
Necessity of fully automated and easy-to-scale, cloud-based solution with High Availability and Disaster Recovery in place
Integrating data from dozens of sources systems fed by more than 18 000 aircrafts through 10 000+ data pipelines
Providing near real-time data insights needed for quick decision-making
Providing sufficient level of privacy and governance with the number of actors, use cases, and access levels
Laying strong foundation for Data Culture and encouraging self-service approach with user friendly experience
The process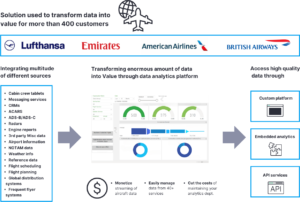 Techstack
Azure Data Lake: was used to store enormous amounts of raw and cleansed data, for later processing and analysis.
Azure Data Factory: was used in the Load layer for integration of data from various sources such as relational databases, flat files, event queues, or Rest APIs.
Databricks: provided a distributed computing environment that allowed for processing large data sets at scale, allowing for cost efficient, convenient access to a broad range of advanced functionalities such as AI augmented analytics or near real-time data streaming.
Azure Synapse: was used to store modeled data, for further analytics workloads done in parallel, allowing for quick, data-driven decisions.
Power BI: was used presentation layer and as self-service, allowing the business user to view multiple interactive dashboards, gaining concise, actionable insights.
Benefits:
Business-users
Thanks to efficiency of the platform as well as clarity of the dashboards, we saved valuable time of both business-users and developers. New data platform allowed for simpler, more consistent and readable reports, with better resource allocation and lower maintenance costs due to a unified toolbox. Result? Measurable financial savings and better decision making.
Customers
Thanks to near real-time data insights, from thousands of aircrafts and data pipelines, airlines could rapidly tailor their services to client's needs, increasing customer satisfaction and increasing revenue. Additionally, data-driven aircraft IT infrastructure reduced risk of possible negative outcomes, further cementing brand loyalty.
Strategy
Consistent reports containing variety of graphs and ability to view data in near real time, data quality services in place increased trust in data – a necessity during digital transformation. By establishing privacy guidelines and data governance structures we were also able to lay strong foundation for mature Data-First and Self-Service focused culture.